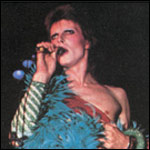 Ok, so I did my research, I field tested, and the results are in. What to do when you want to be a face-glitter girl and you have the greasy skin (or any type of skin, really): Glitter eyes for day, or night even, should not be layered with color. I know I said I'd never be one of those "rules of makeup" hoes, but trust me- unless you want to look like you spent too long at the M.A.C. counter. Makeup that's "just a touch Bowie" is so much more rockin' than full on Bowie. Cuz you're not Bowie, only Bowie is. If
really
you want color with sparkle, I hear that
Bobbi Brown Long Wear Cream Shadow
will not crease, and comes in 16 shades of joy [via
BBTBB
].
So, with actual glitter the secret is to let the glitter itself be the color: for a cooler space-age look, wear silver glitter, for a more hippy-dippy look, choose warmer, but still neutral tones. It's best to get a loose glitter in a pot, Mattese NYC (which you get at
Ricky's
) has a vast color selection and the peices are really small, which is better. Now here is the incredible secret ingredient: waterproof fixer. Make Up Forever has a
great one
. Fixer is basically an adhesive that is safe for eye-area application and transforms non-waterproof makeup into long-lasting-go-nowhere goodness. Sqirt a little onto the back of your hand, dip a makeup brush into the glitter and mix with the fixer, then apply it to your lid, or undereye, or wherev. It will stay amzing for hours. Follow these
instructions
how to apply of the rest of your look.
My moms used to yell at me for wearing glitter on my eyes because she thought it would get into my ducts and cause a stye! It did, but
stye
is just one 'L' away from
style
, and that's close enough for me. Anyhoo,
CONTEST!
First reader to comment with their favorite Bowie song gets a set of Make Up Forever waterproof makeup including Mascara, Eyeliner, Eye Seal and Waterproof Sensitive Eye Cleanser. It's not used, okay? Jeez. It comes in an actual box.
♥
P
B
PS. If you hate all Bowie songs but still want the goods, you crazy, but you can go ahead and comment with how many times I said "Bowie" in this post.